COMMUNITY CINEMA
An initiative to hold monthly film shows was taken some time ago as part of a scheme to raise sufficient funds to install tiered seating in the main hall. Although the scheme was successful and the project completed, the popularity of the film nights was such that requests were made to continue with the arrangement. As a result, films are regularly shown on the last Wednesday of each month together with special Saturday screenings.
Recent improvements include a new projector giving much better picture quality and a larger screen.
The monthly film nights have become a regular date in the calendar for many people and attendances are steadily increasing. Films specifically for children are now also shown from time to time.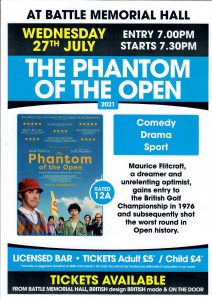 Doors open   7-00pm
                                Film starts    7-30pm
                        Licensed bar  — soft drinks – snacks 
Forthcoming films are :  Not available 
If you would like to be kept in touch please advise the Hall Manager of your email address.
Tickets in advance are available from the Memorial Hall itself, and in British Made on the High Street. They can also be purchased on the door on the night, 
     Price per ticket is only £2-00 but by adding a donation of £3-00 per adult and £2-00 per child enables Gift Aid to be claimed contributing to the running costs of the Hall.